About Us
Jefferson Surgical Center at the Navy Yard is a multispecialty ambulatory surgery center developed by Thomas Jefferson University Hospitals, The Rothman Institute, and ValueHealth to provide patients with high-quality, patient-focused outpatient care. It is the first such outpatient surgery center offered at the Navy Yard and is licensed by the State of Pennsylvania, (Accreditation Association for Ambulatory Health Care - AAAHC and a Fully Accredited Medicare CMS).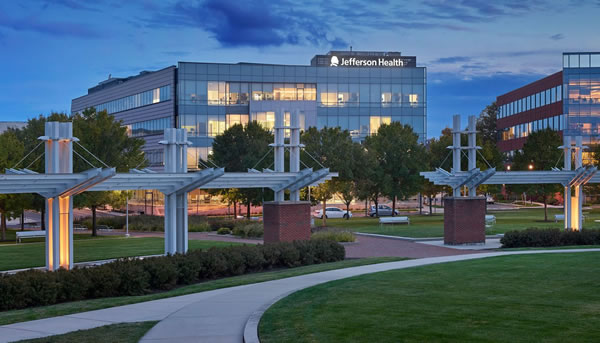 Located in Suite 310 of the Jefferson at the Navy Yard facility, our space features four fully equipped operating rooms and one procedure room with the latest medical instrumentation. Our recovery rooms assure your privacy and provide an opportunity for your family to join you shortly after your procedure.
You will be treated by a staff of highly qualified physicians, nurses, and technicians who will strive to exceed your expectations and provide a positive surgical experience. Our facility accommodates all languages through translation services.
Our specialties include:
Anesthesiology
Foot & Ankle Surgery
Hand Surgery
Orthopedic Surgery
Pain Management
Podiatry
Sports (Orthopedic)
Urology
Mission & Vision
Mission Statement
Jefferson Surgical Center - Navy Yard reflects both who we are and what we do. We are committed to providing outstanding surgical care for our patients, whose trust we honor. The facility was designed from the ground up with the patient experience as our focus. Our mission is to serve each individual first by understanding and knowing our patients' special needs and expectations, and then by providing the highest quality, safest, most efficient patient friendly hospital environment for their surgery and after care.
Vision Statement
We have committed ourselves to raising the quality of healthcare in our community by returning to the principles upon which medical care was founded: local doctors and nurses caring for their fellow community members with the level of responsibility and intimacy commensurate with caring for one's own family member.
We are committed to prioritizing a sustained effort to advocate for our patients, to act with fiscal responsibility and to use our resources in initiatives that promote the best interests of all patients and the greater good of the community that we serve.
Disclosures
Non-discrimination
This facility does not discriminate against any person on the basis of race, sex, sexual orientation, gender identity, color, national origin, religion, disability or age in admission, treatment, or participation in its programs, services and activities or in employment.
Protection of Health Information
This facility is dedicated to the protection of your personal health information. We follow the guidelines set forth by the U.S. Department of Health & Human Services, Office of Civil Rights. For more information, visit www.hhs.gov/ocr/hipaa/
Independent Contractor Notice
The physicians and other specialized medical service providers, including anesthesia, radiology or pathology, which use this facility, are independent contractors and are not employees or agents of the facility. Since they are independent contractors, the facility is not responsible or liable for their acts or omissions.